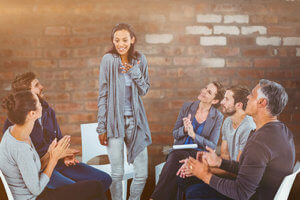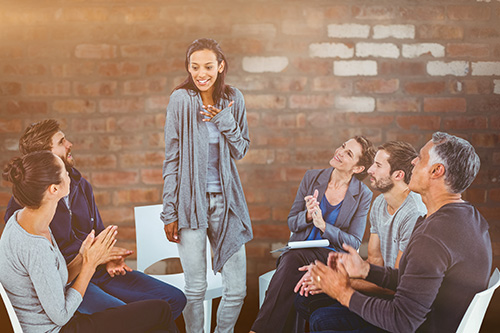 Recovering from addiction is extremely difficult without the right support. When you try to quit using, you might experience overwhelming physical symptoms that endanger your health. Even after you eliminate the substance from your system, you may experience weeks, months, or years of psychological and emotional distress. Therefore, understanding addiction recovery care can help you decide how to stop letting drugs control your life.
How Does Addiction Recovery Care Work?
Acknowledging an addiction is often the first step to reaching sobriety. Committing to addiction recovery care is, ultimately, heading in the right direction.
If you or a loved one struggles with drug abuse, you might already be familiar with how an addiction rehab center works. For example, a structured program offers a variety of treatment options for addressing both physical and mental challenges. These structured programs take place at our facility and are tailored to each individual. 
Addiction Recovery: How Long Will It Take?
The length of one's addiction recovery process will be dependent upon the severity of the addiction. Each treatment program is personalized based on the person's needs. 
The two sides of the spectrum are inpatient and outpatient rehabilitation therapy. 
Inpatient rehabilitation is also referred to as residential treatment. Inpatient treatment requires the individual to live at the facility during treatment. It offers 24/7 medical care and assistance. This is the most intensive treatment option because it provides the highest level of care. 
If you're struggling with a severe addiction, along with withdrawal symptoms, inpatient treatment may be your best bet.
On the other hand, outpatient rehabilitation is a less intensive form of treatment. In this case, treatment does not require residency. Outpatient rehab offers everything from psychologists to support groups to medical support. However, outpatient treatment takes place on scheduled days and times throughout the week. 
In between these two, there are treatment programs such as intensive outpatient programs and partial hospitalization programs. One of our dedicated specialists would love to explain to you the different types of care. Call us today to get a better understanding of which treatment would suit your needs best in the addiction recovery process.
Stages of Addiction Recovery Care
Addiction recovery involves three steps. These stages build up on top of one another to ultimately set you up for long-lasting sobriety. Our goal is to set you up for future success. We want to teach you the tools and give you the resources for addiction recovery.
Generally, addiction recovery care includes these three stages:
Detox
In the detox stage, patients usually stay at the facility while a medical team works to support them. The detox experience depends on the substance of choice and longevity of use. Likewise, withdrawal symptoms range from uncomfortable to dangerous. Medically managing the process is often necessary to build a solid foundation for additional treatment.
Medical detox is generally one of the first steps during the addiction recovery journey. Alcohol and drug detox involves the use of medications to normalize neurochemical levels in the central nervous system.
In other words, detoxing gives your body a reboot. Medical detox also helps to alleviate withdrawal symptoms. A detox is a significant resource during drug and alcohol treatment. 
During the detox stage, the patient will also begin working with a counselor to set up a plan for continued care. Substance abuse recovery care may include a variety of modalities, including:
Psychotherapy
Psychotherapy, which is often referred to as talk therapy, is a treatment method that involves the application of one or more therapeutic interventions. Psychotherapy can be described as a process by which psychological issues are treated by a trained therapist. The goal of psychotherapy is to improve an individual's overall mental health and well-being. Patients can continue to make healthy lifestyle improvements, such as healthy sleep habits, nutrition, and regular exercise. 
Types of psychotherapy include:
Cognitive-behavioral therapy

Dialectical behavior therapy

Psychodynamic therapy

Psychoanalysis

Humanistic therapy

Supportive therapy
Group Therapy
Group therapy is a treatment method used by nearly every rehab facility and addiction treatment center because of its effectiveness. Sharing experiences in a supportive environment has a multitude of benefits in the addiction recovery process. 
Group therapy targets feelings of isolation by creating a supportive community of people. This cultivates a culture of recovery that encourages participants to stay sober. The relationships formed in group therapy can also be lifesavers during challenging times.
Family Therapy
Family therapy is centered around rebuilding relationships and improving communication as a family unit. The family and addict must be on the same page during the addiction recovery process. Support, empathy, and understanding are significant parts of the process when recovering from addiction.
It differs from other types of therapy in that the focus isn't solely on the individual suffering from addiction. Family dynamics may dictate that children or spouses require more attention during therapy sessions. Family therapy aims to achieve harmony between all members of the family.
Music Therapy
Music therapy was first used in the 1970s to help patients express emotions they were otherwise unable to. Since then, it's become a widely used method in treatment. Music is a language almost everybody understands. 
The American Music Therapy Association encourages people in recovery to try music therapy, regardless of their musical background. Writing lyrics, playing an instrument, dancing, and listening to music are all options in music therapy.
Addiction recovery isn't just about detox and standard therapy. It's about treating the person as a whole and finding joy in new activities. It's important to give yourself a creative outlet. If you're not that into creative activities, then maybe it can be a form of stress-relief for you.
Life After Rehab: Aftercare
Although addiction is incurable, it is manageable. Thus, successful recovery may involve avoiding triggers, working with mentors, and sticking with treatment. Lifelong sobriety is hard work. Therefore, people who suffer from addiction need to stay dedicated to recovery.
The methods patients use in rehab can transfer to daily life as well. For example, meditation and yoga help individuals manage stress. Besides, support groups provide a compassionate community. Psychotherapy allows individuals to understand addictive behaviors and prevent them from happening.
Types Of Aftercare Programs
Increasing the chances of long-term recovery is all about preparation. One cannot move forward if they are letting parts of their past get in the way. It is important to encourage positive, healthy lifestyle changes that aid in the addiction recovery process. 
It is generally recommended that clients begin aftercare immediately after the treatment program ends. Aftercare is the last part of addiction recovery. It provides the patient with a smooth transition back into their normal lives. Below are some of the many different options you have when deciding how to continue the addiction recovery journey. 
Sober Living Homes
The transition from rehab back to life in the community is one of the most vulnerable periods for a person in recovery. These homes provide a safe environment where rehab graduates can continue to practice their coping skills in a sober setting.
These homes require living participants to follow strict rules. These rules include no substance abuse, mandatory house meetings, regular drug screening, and participation in household chores. 
Initially, this can seem a little overwhelming. However, these rules set patients up for future success. It'll give you the confidence to continue long-lasting sobriety on your own. A study published in the Journal of Psychoactive Drugs has shown that 300 residents of sober living homes found that the majority of participants had positive outcomes: more days of sobriety, more social support, and fewer legal problems after rehab.
Support Groups
Support groups are a crucial part of addiction recovery. Most communities have mutual support recovery groups where people in recovery can meet to share their experiences and learn new coping strategies. 
These groups include Alcoholics Anonymous, Narcotics Anonymous, Al-Anon, as well as Dual Recovery Anonymous. 
Support groups are a way for you to give and get support while recovering from addiction. This is a judgment-free space focused on creating an encouraging environment. 
Case Management
Case managers act as your mentors and supporters during and after treatment. Case managers act as advocates, guides, and counselors. They offer a lot of help in navigating the twists and turns of life after the first two stages of addiction recovery. 
They'll help you identify health care providers in your community, understand the ins and outs of the legal system, or find affordable housing and childcare.
1st Step is Here for You
At 1st Step Behavioral Health, we strive to give individuals the tools to maintain a successful recovery. We offer several addiction treatments for substances such as:
Additionally, we provide long-term care to help clients set an effective foundation for addiction recovery. Through psychotherapy, evidence-based holistic approaches, and talk therapy, we help our patients learn how to connect with themselves and others.
The professionals at 1st Step Behavioral Health provide transitional care to establish a solid footing to begin the rest of your life. We also offer relapse prevention treatment. However, if you do need to return to rehab, we encourage you to look at it as another challenge to overcome. Relapse is not a failure.
Call Us Today
Overall, you'll endure obstacles as you navigate long-term recovery. At 1st Step Behavioral Health, we give you the necessary personalized care to steer you in the right direction after every setback.
Our treatment is tailored to your specific needs and challenges. It's not just about treating the disease. It's about treating the person as a whole. Call 1st Step Behavioral Health at (855) 425-4846 or contact us here for more information about available programs.
References: