Addiction recovery isn't a quick process, and there's no cure that delivers instant sobriety. Rehab involves a number of treatment methods, often including family therapy for addiction recovery. Learn more about the benefits of family-based therapy and how it can be helpful on the journey to total, lasting recovery.
Facilitates Communication Between Family Members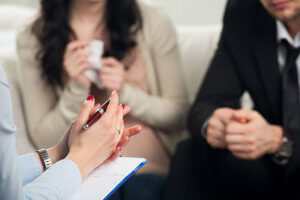 Addiction has the potential to rip families apart. A person with an addiction to drugs or alcohol may lie about his or her substance abuse, steal from family members or avoid family events because of shame and guilt. Family members, on the other hand, may feel desperate and act out in an effort to help.
All of these actions are normal byproducts of addiction. Nonetheless, they can damage familial relationships. As patients recover from the disease of addiction, their relationships with family members also deserve attention.
During family counseling or therapy, individuals can begin reopening lines of communication. Everyone regains an equal footing, restoring normal family dynamics. Most addiction patients say that they wish life could go back to what it was like before substance abuse. While that may not be possible, family-based therapy can certainly help.
Family Members Can Better Understand the Nature of Addiction
Just because you know someone struggling with addiction doesn't mean you necessarily understand the nature of the disease. Many family members want to help their loved ones, but they simply don't know what causes addiction or how to aid in recovery.
Part of family counseling is education. Family members will have the opportunity to learn what addiction really is. They'll learn that it's an illness, not a choice or a mindset.
Family members can also better understand what causes addiction. Learning about the various factors that contribute to an addiction can help explain why the disease developed in the first place. It can also help family members see that they're not personally responsible for a loved one's addiction.
Family Therapy Can Stop the Genetic Cycle of Addiction
Did you know that addiction has a genetic component? Research suggests that a genetic predisposition to addiction is responsible for up to half of all addictions. This explains why the disease so often runs in families, impacting each generation.
The best way to stop this cycle of addiction is through awareness and education. During family counseling or therapy sessions, all participants will better understand how addiction takes hold. If parents and teens know they're especially susceptible to addiction, it could make a positive difference.
Encourages Trust and Honesty
Another benefit of family therapy for addiction recovery is that it encourages frank, honest discussions. It can be difficult to be honest about past actions, feeling, and emotions. Some people may be angry, while others feel disappointed or let down.
Covering up or ignoring these emotions isn't healthy. However, some people are afraid to be honest, lest it causes more problems. During therapy, a trained professional is present to help dive into these issues. Honest conversations can lead to healing resolutions.
Family Therapy for Addiction Recovery at 1st Step Behavioral Health
Drug treatment programs at 1st Step Behavioral Health welcome family participation. Family therapy for addiction recovery can be incredibly beneficial at every stage of rehab. During an intensive outpatient program, family support will be critical.
Family involvement is just one way to work toward addiction recovery. Other treatment methods available to patients include:
Family therapy for addiction recovery is a proven way to help rebuild relationships. At 1st Step Behavioral Health in Pompano Beach, Florida, you can complete your journey to lasting recovery. Create your own path to sobriety by calling (855) 425-4846 today.