Can someone have an addictive personality? If so, what does having such a personality even mean? According to experts, people can have certain addictive characteristics that make them more likely to develop an addiction to drugs or alcohol. It's important for people to know the traits that put them more at risk.
What Is an Addictive Personality?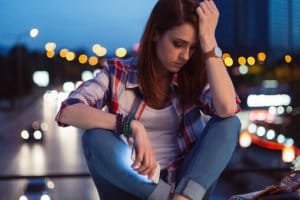 An addictive personality means that someone has certain traits that put him or her more at risk for developing an addiction. Having these traits puts them at risk for all kinds of addictions, not just drug problems. For example, they can also develop addictions to gambling, sex, and exercise.
In general, people with addictive characteristics tend to develop an addiction to anything that releases endorphins in the brain. The brain uses endorphins to trigger a reward response. Eating good food, laughing, or even exercising releases endorphins.
Personality Traits That Can Lead to Addiction
Not all personality traits lead to addiction. However, people should look out for those that put them more at risk. For example, poor coping skills put people at a greater risk. When they can't cope, they turn to drugs to help them.
People who have impulsive behaviors are also at a greater risk of developing an addiction. When they act impulsively, they don't think about the outcome or how to control their actions. Those who drink all night when they know that they have to work the next day are at risk. Since they can't control themselves, using alcohol puts them at a greater risk than people who can control their impulses.
Compulsive behavior is another concern. When someone suffers from compulsive behavior, they already have trouble controlling their own actions. If they start using drugs, it's even harder for them to break the cycle and keep themselves from using.
Personality Traits and Alcohol Use
People who have bad personality traits and drink alcohol don't automatically develop an addiction. However, they need to be more aware of the consequences of their actions. Experts believe that bad personality traits can make the difference between some people developing addiction. Others believe that it's their drug use habits that make the difference.
For example, some people can go out and have a few drinks on the weekend without any problems. Others, however, have trouble stopping, and it starts affecting their work week. Also, social drinkers only drink when they're out with friends. There's a problem when they can't stop there and have to drink when they're alone at home.
Let 1st Step Behavioral Health Help You Overcome Addiction
If you have an addictive personality, it doesn't take much for you to fall victim to addiction. With that said, you can learn how to handle addiction and these traits with the right guidance. At 1st Step Behavioral Health, we provide this kind of guidance. Some of the different drug addiction treatment programs that we offer include:
Intensive outpatient treatment
Partial hospitalization
We strive to provide a caring environment for our clients. We also don't consider ourselves a country club. Instead, we truly focus on addiction counseling and treatment. As part of our effort to offer reliable care, we offer long-term programs as well. Our long-term care can last from six months to a year.
1st Step Behavioral Health offers great amenities for our clients. Some of them include acupuncture services, massage therapy, and an on-site chiropractor. All of these services help reduce stress so that you can relax.
Fight back against your addiction, and learn how to overcome your addictive personality traits. Let us show you the road to recovery. Reach out to 1st Step Behavioral Health today at 866-319-6123 for more information about our services.