Addiction counseling helps people understand the causes of their addiction. It also teaches them to avoid risk factors and cope under stress. Trained counselors and therapists offer different types of addiction counseling and therapy at personal and group levels.
Types of Personal Counseling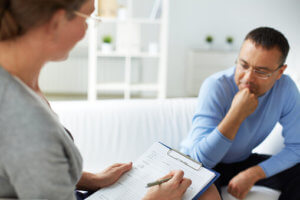 The purpose of personal counseling is to reduce or stop the use of alcohol or drugs. Counselors help addicts address areas of their lives that may not be so great, such as illegal activity, relationships, school and work. They also help them build healthy coping skills and a sound recovery plan. Take a look at these types of personal addiction counseling.
Cognitive behavioral therapy (CBT) helps addicts recognize and stop bad patterns of behavior and thought. This is one of the most popular therapy types. It works particularly well for people who are addicted to alcohol, cannabis, cocaine, meth and nicotine. There are man CBT methods, such as learning to predict risky situations and using coping skills to prevent relapse.

Counselors also use

contingency management

and rewards to affirm positive behavior. Along with other therapies, receiving rewards for not using alcohol or drugs reduces the risk of relapse. This method works rather well for people who with addictions to alcohol, cocaine, cannabis, meth, nicotine and stimulants.

Therapists use

motivational enhancement

to inspire addicts. This method also helps addicts commit to a certain plan so that they seek recovery and help. It's most successful in the early phases of addiction recovery and for people who are addicted to alcohol, cannabis and nicotine. The goal is to make them want to change.
Types of Group Counseling
Many addiction care centers offer group addiction counseling to create a community of support for addicts. It also promotes alcohol- or drug-free living. During group sessions, the members usually take turns talking and offering support to each other. It might also involve family sessions to mend relationships.
Twelve-step programs

, including the ones that Alcoholics Anonymous and Narcotics Anonymous use, support long-term recovery. They help people who are addicted to alcohol, cocaine, meth and opioids the most. These programs are based on key principles, including that addicts must take part in supporting each other. It also recognizes that addicts have no control over their diseases.

Family behavior therapy

targets issues that impact the whole family. Counselors work to reduce addiction risks such as abuse, conflict and lack of work. They use contingency management and other methods to achieve this. The sessions typically involve many family members learning skills to improve communication and live in peace.
Addiction Counseling at 1st Step Behavioral Health
Located in Pompano Beach, Florida, 1st Step Behavioral Health has a range of counseling options. The main goal of the staff is to create a caring atmosphere for each client. The highly trained staff is ready to help people who suffer from both addiction and other disorders. Along with counseling and dual diagnosis, the wellness center offers:
Acupuncture

Chiropractics

Massages
If you're ready to reap the benefits of addiction counseling, enroll in therapy at a rehab facility to reclaim control over your life. Call (855) 425-4846 for more details about starting your path to recovery.