There's a common joke that equates group therapy with a room full of addicts chain-smoking and talking about partying. Nothing could be farther from the truth. In fact, the peer support in a well-run therapy session is second to none. Find out what's really going on when a group meets for treatment.
Group Therapy Activities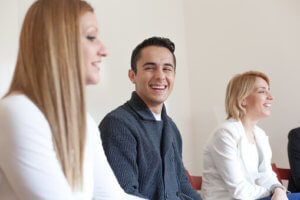 Group sizes vary depending on the needs of the participants. Therapists combine groups by including program members with similar struggles or backgrounds. The initial step is to find a point where individuals can relate to one another. Within the realm of the group setting, it's easy to talk about relapse prevention.
Another use for groups is the treatment of psychological disorders that affect drug or alcohol abuse. Group therapy is an opportunity for individuals to share their experiences as well as the education they're currently receiving. Pairing newcomers to the group with veteran attendees is an essential step to helping a newbie acclimate. Since temperaments differ, a skilled therapist knows when to draw out a participant and when to allow for passive learning.
Benefits of Group Therapy for Rehab Program Participants
Addiction isolates those suffering from the disease. Getting together in a group may be the first social contact many individuals have had in a long time. As a result, they can use this experience to hone their social skills. For others, self-imposed isolation was the result of lacking trigger responses.
Those group participants who've been working with a therapist in one-on-one sessions can practice their responses to trigger situations. As individuals share about their struggles and receive validation from the group, they build their self-esteem. Another benefit is the person's ability to recognize that he or she is not the only person with a particular addiction problem. This step plays a pivotal role in someone's ability to let go of guilt and shame.
Group time facilitates collective learning and therefore forges strong peer relationships. Looking forward to relapse prevention, consider that these relationships can make the difference between using and making a call. But before this type of thought process can enter the equation, the peer relationships require building. A judgment free environment is an essential building block for this scenario.
The Therapist's Role
Within addiction counseling, the therapist's role is that of a facilitator. It requires the expert to be in tune with the group dynamics and prevent any personality problems. If a conflict is unavoidable, the professional controls the discussion and nips judgment in the bud. The expert steers conversations into beneficial directions and helps group members to grow through feedback and advice.
In one-on-one sessions with program participants, the therapist works on individual growth with attendees. Examples of these types of therapies include:
Cognitive behavioral therapy
Dialectical behavior therapy
Family therapy
Experiential therapy
Eye movement desensitization and reprocessing
It's important to note that these various therapy approaches work best in a residential rehab or partial hospitalization setting. Make the time at the facility the focal point of your day. When you do this, your mindset changes and becomes more intent on personal growth. If you've tried outpatient treatment in the past and didn't like the results, give the residential setting a try.
Another advantage of living at the facility is the option for holistic care. Remember that drug addiction doesn't define you but most certainly affects the way your body feels and works. By having an acupuncturist, chiropractor, or massage therapist available, you help your body to recover alongside your mind.
Do You Need Help with a Substance Abuse Problem Today?
If you or a loved one could benefit from drug addiction treatment today, discuss your thoughts with an intake counselor. At 1st Step Behavioral Health, you get the personalized attention and care you need to get well. There's no reason to keep suffering for another day. Call (855) 425-4846 today to begin your personal journey to recovery.