When it comes to substance abuse, drug addiction awareness is extremely important. With drug addiction, there also comes mental health issues. Both feed off of each other which is why drug addiction awareness is crucial. It allows us to discuss all parts of the matter.
Drug addiction awareness is all about encouraging users and those affected to open up. It can be a heavy topic, but coming together presents us with power. Whether it's you or a loved one struggling, keep reading to learn more about drug addiction awareness. No matter who you are, you can choose to seek help today.
Addiction Awareness
Addiction doesn't discriminate, and it affects all types of people from different backgrounds. Being aware of the issue allows people from all walks of life to open up.  Many people fall into the delusion that addiction only happens to people who live in certain parts of the country or have specific backgrounds. However, the truth of the matter is that addiction is a disease. 
This disease hurts people from all walks of life, some are just better at hiding it. We want anyone struggling with addiction to feel comfortable opening up. Opening up about the issue is the first step in choosing to live a better, sober life.
Physical Impact of Drug Addiction
Understanding the link between mental health and addiction is important. However, it's also essential to understand the physical impact that addiction has on the body. In fact, the physical problems that drugs cause are typically the result of the mental damage that drug abuse causes. 
Some common physical problems include:
Changes in body temperature

Irregular heartbeat

Changes in sleep patterns

Brain damage

Seizures
Most of these problems occur because of the effects that drugs have on the brain. Drugs limit its ability to function properly. The result is long-term brain damage when people don't get the help that they need.
The Link Between Addiction and Mental Health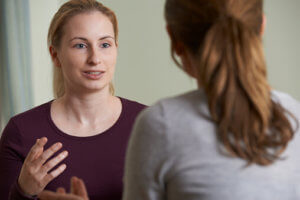 Drug addiction awareness allows us to educate ourselves on all parts of the issue. Drugs alter the chemical balance in the brain. These changes usually involve increasing the production of dopamine. Two of the top jobs of dopamine include triggering the reward center in the brain and blocking pain. 
Unfortunately, anytime people alter the chemical balance of their brains, they risk developing mental health disorders.
The brain consists of parts that work together as a team. Each of these parts has its own responsibilities for handling specific functions and performance. Drugs make it difficult for these areas of the brain to communicate with each other properly. 
The parts of the brain that work together include the brain stem, cerebral cortex, and limbic system. The brainstem controls functions such as breathing, sleeping and regulating heart rate. The cerebral cortex controls information regarding the processing of senses such as taste and touch. However, the cerebral cortex also gives the brain its power to think and make decisions.
The limbic system contains the reward circuit of the brain. It controls the ability to feel and regulates pleasure. Since this area of the brain also controls emotions, many drugs specifically target it.
Drug addiction awareness and mental health are two matters that go hand in hand. Addiction often has underlying roots. It can stem from depression, anxiety, bipolar disorder, and a variety of other different reasons. 
Why Mental Health is So Important
Simply knowing the link between mental health and drugs is only half the battle. It's also important to know that mental health and drug addiction awareness are essential in the fight against drug addiction. 
The importance of spreading drug addiction awareness is why so many rehab centers offer dual diagnosis treatment for co-occurring disorders. This treatment allows rehabs to address both mental health disorders and drug abuse.
Mental health awareness is also important because it lets people know if they're more at risk of developing an addiction than others. The World Health Organization says that around 20% of children in the world have a mental health disorder. Scientists believe that these children are more at risk of developing drug addiction than individuals who don't have mental health disorders.
How Can Dual-Diagnosis Help?
Dual-diagnosis is the occurrence of both a substance use disorder and a mental health disorder at the same time. The term co-occurring disorders may be used interchangeably. When someone is struggling with both addiction and mental illness, it can make it more difficult for them to achieve recovery on their own.
However, with the help of trained professionals and a targeted treatment program, progress can be made. You or a loved one can develop the strategies and skills necessary to create a healthier lifestyle.
Dual-Diagnosis at our Facility
Here at 1st Step Behavioral Health, we know the importance of mental health and drug addiction awareness. This is why we offer dual diagnosis programs. Our goal is to provide a caring environment so that you can focus on your recovery.
We also put a big emphasis on therapy. Using therapy, we can get to the root cause of your addiction and mental health issues. Some of the different types of therapy that we offer include:
Art therapy

Family therapy

Individual therapy

Music therapy

Group therapy
How You Can Raise Drug Addiction Awareness
Volunteering your time with local organizations is a great way to raise awareness about substance abuse. Drug addiction not only benefits those who may be going through it, but it can also help prevent those from even starting.
Millions of lives have been touched through the events that raise drug addiction awareness. Coming together as a community holds a lot of power. It encourages a "we're in this together" mentality. 
There are a handful of ways you can become an advocate in your community. Keep reading to learn more about you can help raise drug addiction awareness.
Enroll in College Campus Events for Drug Addiction Awareness
Drug and alcohol abuse is unfortunately common in college students. College campuses are even getting ahead by offering classes and groups that discuss the risks of addiction. Aside from classes, events are hosted as well.
Research colleges near to you and find upcoming events for drug addiction awareness. You can either volunteer at these events or come to support the community.
Participate in Recovery Month
Every September, the Substance Abuse and Mental Health Services Administration (SAMHSA) sponsors Recovery Month to increase national drug addiction awareness. Substance abuse issues must be understood in order to move forward from them.
Although campaigns differ year to year, the message of Recovery Month remains solid:
Behavioral health is essential to health

Prevention works

Treatment is effective

People recover
During Recovery Month, thousands of addiction programs and groups hold events to spread the message about treatment and recovery.
Make a Donation to the National Council on Alcohol and Drug Dependence, Inc.
The National Council on Alcohol and Drug Dependence, Inc. (NCADD) supports those affected by a drug or alcohol addiction. The organization has been around for over 70 years helping communities nationwide. 
Making a donation to NCADD may include:
General donation: Support the work and mission of the organization. This allows them to continue educating the public about addiction, prevention, and recovery.

Memorial donation: A contribution made in memory of someone in your life. Your donation will provide hope and support to those who need it most.

Tribute donation: A tribute of a special occurrence like a recovery anniversary, graduation or birthday. It offers a way to honor a family member or friend while helping others.
The Importance of Community Support
Community support is all about coming together. When it comes to drug addiction, it can be a scary and complex road to be on. However, coming together shows us that nobody is alone. No matter how lost you may feel, there is support you can reach out to.
Drug addiction awareness within the community also shows us that it's okay to talk about. In fact, it's far more than just okay. Openly speaking out about addiction is really important and we encourage you to be a leader in the change that takes place.
Start the Road to Recovery Today
Drug addiction awareness is key in progressing for those affected, as well as preventing others from starting to use. Drug addiction awareness means recognizing the importance of mental health. It also means standing up for others and taking the time to become educated. 
Awareness allows there to be an openness in the community. If somebody is using, they can feel more comfortable getting help. If somebody feels tempted to use, awareness can be the difference between staying away and getting addicted.
Don't underestimate the power of drug addiction awareness in the community.
Let's raise awareness of drug addiction together. If you or a loved one is struggling with addiction, we can help. If you have any questions, comments or concerns, don't hesitate to reach out.  Contact us here or at (855) 425-4846 for more information today.
References:
https://www.who.int/features/factfiles/mental_health/mental_health_facts/en/