As one of the oldest programs, the 12 Steps of AA is considered a standard treatment for people who struggle with alcohol addiction. However, other organizations and treatment centers use its principles for other addiction types. AA and the 12 Steps could be a great solution if you or a loved one has an addiction.
What Is 12-Step Facilitation Therapy?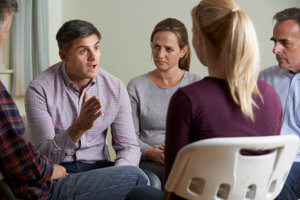 This type of program is an active engagement strategy. The purpose is to encourage people with an addiction to get involved in self-help groups. The goal is a higher rate of abstinence.
These programs are based on three key ideas. The first is that the participants accept that they have no control over their addiction. They must also accept that abstinence is their only option and that they cannot overcome the problem alone.
The second is that the participants surrender themselves to a higher power and accept the support of others. Second, they must also follow the recovery activities in the program. Finally, they must be involved in related activities and meetings.
About AA and the 12 Steps
AA is a worldwide organization of people who have had and are working to overcome drinking problems. Its goal is to promote abstinence among suffering alcoholics. AA members, who remain anonymous, organize and support the group.
Being able to stay anonymous is a comfort and relief for members who worry about being recognized. The only thing that they must have to join AA is a desire to stop drinking. All people who struggle with alcohol addiction are welcome to join.
The founders of AA created the 12 Steps program to form guidelines for the best path to defeat active alcohol addiction. The program requires members to commit to a spiritual practice rather than a religious one. The 12 Steps of AA had so much early success that support groups for other addictions adapted it for their own needs.
The 12 Steps of AA
Recovering from alcohol addiction takes a lifetime. There's no wrong way for participants to tackle the 12 Steps of AA as they learn what works best for their needs. Participants do one or more steps at a time as they're ready to do them. Most of them even revisit some of the steps. The following are the 12 steps of AA:
Admit that you have no control over alcohol and that your life is unmanageable.

Believe in a power greater than yourself that may restore your sanity.

Turn your will and life into God's care as you understand Him.

Admit the exact nature of your wrongs.

Be ready to allow God to remove your character flaws.

Humbly ask Him to remove your shortcomings.

Make a list of the people you've hurt and be willing to make amends with all of them.

Make direct amends with those you've hurt where possible unless doing so would hurt them or others.

Continue taking inventory of your morals and admit being wrong when you're wrong.

Seek to improve your contact with God through prayer and meditation of His will for you.

Carry this message to alcoholics, and practice these principles in everything that you do.
AA members ask newcomers to the group to keep an open mind about the steps. They also ask them to read AA literature about the program and to attend meetings. The meetings involve recovered alcoholics talking about their personal experiences on the road to sobriety.
Get Help at 1st Step Behavioral Health
The 12 Steps of AA alone aren't enough to begin the road to recovery. Some people who suffer from alcohol addiction need detox first to help with the withdrawal symptoms. After detox, help from a quality rehab center such as 1st Step Behavioral Health can give addicts the strength they need to overcome active addiction. Several treatment programs are available, including:
Inpatient

Partial hospitalization

Outpatient

Intensive outpatient
Don't let alcohol addiction control your life any longer. You can regain control and get the support that you need at a quality rehab facility. Call 1st Step Behavioral Health at (855) 425-4846 to learn how to start your journey to sobriety.