An alcohol detox center helps those struggling with substance abuse to go through the process of withdrawal in a safe and supervised environment. Drug and alcohol detox is the first step in treating substance abuse and addiction. Once a patient has undergone detox, they can then start behavioral therapy to find the underlying causes of their disease.
How Alcohol Detox Center Programs Can Help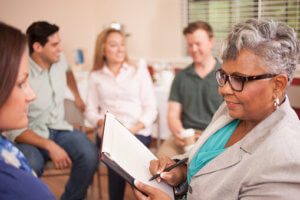 During an alcohol detox, the body processes all toxins out of the body. Patients who have used drugs or alcohol for a long time are likely to develop a dependence that makes reducing or stopping use uncomfortable and even dangerous, which is why a medically supervised detox is so important.
The body builds up various compensations and tolerances for the effects of drugs and alcohol. When a person stops using, it throws everything into disarray. This results in withdrawal symptoms. General symptoms of withdrawal include mood changes, shaking, chills, nausea and cravings. These vary, though, depending on the drug in question.
More serious symptoms of alcohol and drug withdrawal include seizures, heart problems and breathing problems. The most severe type of alcohol withdrawal symptom is known as delirium tremens. It can come on quickly even if previous or early symptoms were mild. It usually starts between two and four days after the last drink. However, it can come on as long as seven to 10 days after the last drink. Patients who have seizures during the 12 to 48 hour period after the last drink are one-third more likely to develop delirium tremens.
Why is Drug and Alcohol Detox Important to Recovery?
Fear of unpleasant withdrawal symptoms often keeps those struggling with addiction from seeking help. Not only do patients have a fear of withdrawal, but they also fear losing substance abuse as a crutch. For these reasons, a medically managed drug or alcohol detox is crucial.
An alcohol detox accomplishes two things on the the road to recovery. First, it takes away the discomfort of withdrawal symptoms. Second, and maybe most importantly, it frees patients of the harmful substance so they can start focusing on the behavioral health side of addiction treatment.
Alcohol Detox Services at 1st Step Behavioral Health
1st Step Behavioral Health in Pompano Beach, Florida offers detox services that utilize a personalized treatment plan for all patients, as well as medications to help withdrawal symptoms. Upon admission to the center, staff will perform a full assessment that will allow them to construct a personalized treatment plan.
The entry assessment includes the following:
Urine drug analysis

Physical assessment

Psychiatric evaluation

Clinical interview
1st Step Behavioral Health provides a caring environment with long-term care programs ranging from six months up to one year. Rather than having every experimental treatment available, 1st Step Behavioral Health focuses more strongly on talk therapy. All patients are assigned a primary care therapist to keep treatment plans personalized and dynamic throughout the program.
1st Step Behavioral Health also offers dual diagnosis treatment to uncover the serious co-occurring issues that may contribute to patients' addiction, such as PTSD, bipolar disorder, depression, anxiety, schizophrenia, attention-deficit hyperactivity disorder and others.
If you or someone you know is struggling with drug or alcohol addiction, the first step is to reach out to an alcohol detox center. Don't allow addiction to control your life any longer. Give 1st Step Behavioral Health a call today at 866-319-6126 and let us help you start on the road to recovery.